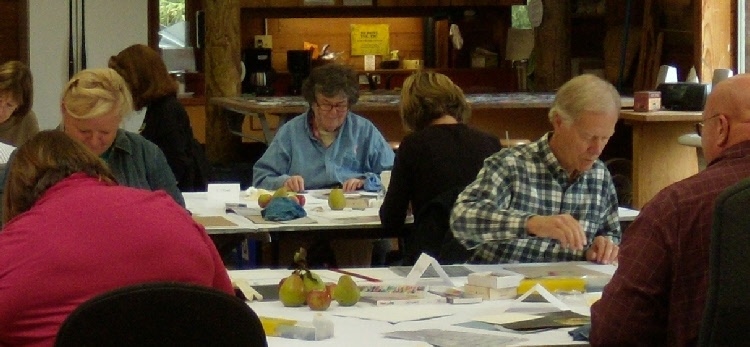 Workshop Opportunities
Sign up early. Most workshops fill up quickly.
Glastonbury Studios One-Day Workshops
All studio workshops are from 10 a.m. to 4 p.m. Includes all supplies and lunch. The cost is $85. Class size is limited to nine students. Pre-registration is required. Only payment reserves your seat.
For full description of workshops see: Workshop Catalog
Watercolor Pencils
July 14 Full
Drawing with Pastels/Oil and Soft
August 5
Beginning Acrylics
September 30
Register by email: jjgoodell@gmail.com
Upcoming 2018 Sketching Cruises
10-Day Sketching Cruise
Sydney, Tasmania, New Zealand
Sunday, January 21-31, 2018
Price Reduction!
Now only $849
($85 a day*)
Cruise $849 (PPDO) plus fees and taxes*
Workshop Tuition: $700
More info: http://sketchingdownunder.blogspot.com/
*Rates subject to change.
**************************
Sketching Fall Colors 7-Day
Sketching Cruise
New England and Canada
Friday, Sep 14 - 21, 2018
Cruise $799 (PPDO) plus fees & taxes*
Workshop Tuition: $700
More Info: http://sketchingfallcolors.blogspot.com/
*Rates subject to change.
******************************
Pastel Workshop at Sitka Center in Oregon, August 2010
Glastonbury Studios
© Copyright 2009-2017 by Jill Jeffers Goodell. All Rights Reserved.
This site is protected by copyright. No portion can be reproduced without permission.
All materials (including images and text) on this page are
copyrighted © by Jill Jeffers Goodell and are protected
Here's what people are saying:
Jill was extremely well prepared for the class and packed in so much instruction that there was not a minute wasted in the class. She does excellent demonstrations, plans the activities very well, and provides good and encouraging feedback to each student. I always leave her classes feeling like I really got more than my money's worth, that I learned a lot, and was encouraged to continue the art work.
Beginning Acrylics
Jill is fantastic. My favorite is her clarity of teaching.

Excellent class. Instructor was well prepared, organized and a good communicator

Really appreciated teacher's flexibility to adapt to student needs, class pace and individual comments.
Beginning Drawing
Good techniques.

Enjoyed learning to draw in a relaxed atmosphere.

Outstanding, especially perspective and values.

Loved having materials provided.

Liked instructor's willing to ensure you understand.